Saturday, April 29, 2000,
Chandigarh, India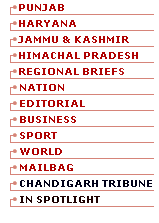 M A I L B A G
Corruption as the cause of decline
COMMENTING on India's "long journey of sliding down the hill", Mr Joginder Singh has rightly emphasised that a developing country like India "cannot and should not be soft in dealing with corruption if poverty is to be eliminated". He has also stressed on "the need for reforms in the judiciary", as pointed out by "many legal luminaries and retired Chief Justices of India''. ("Constitutional promises: time for a reality check", April 11; The Tribune).
Corruption is a sign of moral deterioration, a breach of trust, and a symbol of baseness, decadence, degeneration and unscrupulousness. Georges Bernanos, a French author, says in one of his essays ("Why Freedom?") that the first sign of corruption in a society that is still alive is "that the end justifies the means".
Edward Gibbon, an English historian, who took 25 years to write his monumental book, "The Decline and Fall of The Roman Empire", was once asked to compress in one word the cause of the fall of the Roman empire. For a moment Gibbon became tense, and then said: "Corruption. Yes, corruption, amorality and lust for power and sex destroyed the Roman empire, which ruled almost the entire known world for more than 300 years, ruthlessly and without compunction."
It would have been pathetic to see the last Roman emperor, Diocletian, captured and caged by vandals, Huns and barbarians, and paraded in Constantinople and finally speared to death. Thus, bringing to an inglorious, disgraceful and humiliating end in 476 BC an empire, the like of which was never seen in the history of mankind.
Corruption, "the most infallible symptom of constitutional liberty", writes Bindeshwar Pathak, is the most dangerous source of decay of a system, which destroys the moral fabric of a society and faith of the people in their leaders, besides ruining the credibility of institutions and slowing down growth. It is corruption that has almost shattered the credibility of the system in many countries in Latin America, Asia, Africa, the former USSR and East Europe.
DEEPAK TANDON
Panchkula
Mantra for development: The editorial "Swadeshi as dharma" (The Tribune, April 25) makes interesting reading. I whole-heartedly endorse your views that RSS chief Sudarshan's provocative ideas are totally impracticable.
To my mind, we should accept globalisation as the mantra of sustainable development in the 21st century. We should leave no stone unturned to fetch the fortune from the provisions under "Trade in services" of the World Trade Organisation (WTO).
I would like to suggest that the RSS chief should advocate globalisation as the panacea for our basic problems of poverty, unemployment and the fiscal crisis.
I would like to ask a question. Have we heard any Indian living outside India to be poor? I believe that Indians are poor in India only and not in foreign countries. Then why not to accept brain-drain as a challenge and an opportunity of globalisation and propagate Indianisation around the world and accept it as dharma of the 21st century — "Vasudhaiva-Kutumbakam" and not "Swadeshi" as dharma for Indians in India
M.M. GOEL
Kurukshetra