Saturday, April 29, 2000,
Chandigarh, India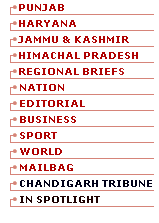 S P O T L I G H T
RJD rally put off
PATNA, April 28 (UNI) — The ruling RJD today announced postponement of the party's "sankalp rally" scheduled to be held here on May 1. Party spokesman Shivanand Tiwari said here the rally had been postponed due to several reasons, including refusal of the Patna High Court to grant bail to party supremo Laloo Prasad Yadav in connection with a disproportionate assets case. At present Mr Yadav is lodged in the Beur jail under judicial custody.
Mild tremors in HP
NEW DELHI, April 28 (UNI) — Parts of Maharashtra and Himachal Pradesh experienced mild tremors of identical intensity, 3.8 on the Richter scale, this morning, the India Meteorological Department said. There were no reports of damage following the slight tremors. The tremors were experienced at 5.47 a.m. in Himachal Pradesh with the epicentre located at 31.7 degrees north latitude and 78.3 degrees east longitude.
Court nod to Sanjay
MUMBAI, April 28 (PTI) — A designated TADA court today allowed film star Sanjay Dutt, accused in the serial blast case, to visit London for four days from April 30 to address the media in regard to the forthcoming International Indian Film Awards. The mega event is being organised by Wizcraft International Pvt Ltd on June 24 in the United Kingdom.