IN PASSING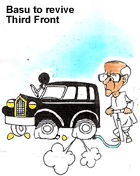 by Sandeep Joshi
Pak hands over spy's body
WAGAH, May 17 — A history of sorts was created when Pakistani Rangers today handed over the body of Satpal, who was working for the military intelligence, to their Indian counterparts at the Wagah joint checkpost.
Sonia attacks govt on review of statute
NEW DELHI, May 17 — Congress President Sonia Gandhi today made a scathing attack on the government on the issue of Constitution review saying that appointing a Review Committee of "unrepresentative and non-elected" members gave rise to grave suspicions about the "ulterior objectives and hidden agendas".
10 militants killed in J&K
SRINAGAR, May 17 — At least 17 persons, including 10 militants and two Army personnel, were killed in separate incidents while the security forces foiled an infiltration bid in Jammu and Kashmir since last evening. The intrusion attempt by a group of militants was frustrated in the Sunderbani area of Rajouri sector last evening when security forces killed two of the intruders, an official spokesman said here today.
Haryana main medical waste supplier
HISAR, May 17 — Haryana is fast emerging as the biggest supplier of medical waste to the underground industry that recycles disposable syringes and intravenous sets. Interestingly, it is also the biggest consumer of recycled medical waste.
EARLIER STORIES
(links open in a new window)
Bill on devolution of taxes passed
May 17, 2000
J & K minister killed in landmine blast
May 16, 2000
40 feared as bus falls into canal
May 15, 2000
Troops repulse LTTE attacks
May 14, 2000
LTTE signal centre smashed
May 13, 2000
Lankan jets pound LTTE areas
May 12, 2000
Tigers breach army defences
May 11, 2000
Lanka gets arms supply
May 10, 2000
Tipnis in Lanka on 5-day visit
May 8, 2000
Lanka mounts air strikes on LTTE
May 7, 2000