IN PASSING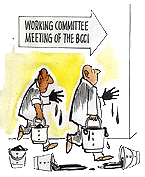 by Sandeep Joshi
N.K. Jain suspended
CHANDIGARH, May 19 — The Haryana Government has suspended former Chandigarh Home Secretary N.K. Jain on his return to his parent cadre. The Union Home Ministry had ordered his repatriation on May 17, a day before his extended police remand in a case under the Prevention of Corruption Act registered by the Special cell of the CBI against him on April 6 expired.
CBI takes Jain's share certificates
CHANDIGARH, May 19 — The team of the Central Bureau of Investigation and the defence counsel of Home Secretary N.K. Jain came to the court of the Chief Judicial Magistrate, Mr Sant Parkash, today morning, as directed by the court yesterday.
Dawood aide among five held
Contract killers' gang unearthed
PHAGWARA, May 19 — Parvez Khan, alias Tanda, a member of the Dubai-based Dawood Ibrahim gang, who had allegedly killed Vicky Goswami, the main suspect in the murder of music magnate Gulshan Kumar, was arrested by the Phagwara police along with four of his accomplices and a large quantity of arms and ammunition here today.
EARLIER STORIES
(links open in a new window)
Lanka ready for talks with LTTE
May 19, 2000
23 killed in Lanka blast
May 18, 2000
Bill on devolution of taxes passed
May 17, 2000
J & K minister killed in landmine blast
May 16, 2000
40 feared as bus falls into canal
May 15, 2000
Troops repulse LTTE attacks
May 14, 2000
LTTE signal centre smashed
May 13, 2000
Lankan jets pound LTTE areas
May 12, 2000
Tigers breach army defences
May 11, 2000
Lanka gets arms supply
May 10, 2000
Tipnis in Lanka on 5-day visit
May 8, 2000
Lanka mounts air strikes on LTTE
May 7, 2000