IN PASSING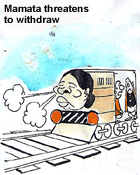 Not to worry, in the good old days engines used to let off steam!
by Sandeep Joshi
Pak agents collecting petro dollars
JAMMU, May 20 — Pakistani agencies, engaged in giving teeth to the ongoing anti-India armed campaign in Jammu and Kashmir, have reportedly sent agents to several Islamic countries for collecting funds for Jehad in the state.
Subsidy to "ghost" units
CBI for action against 2 IAS men
CHANDIGARH, May 20 — The CBI has recommended departmental action for major penalty against two IAS officers of the Punjab cadre besides two officials of the Industries Department.


Indebted farmers pull kids out of schools
SINGO, (Bathinda), May 20 — As farms in many villages of Talwandi Sabo subdivision in the district have stopped being profitable propositions, the farmers who are entangled in debt trap have started forcing their wards to leave school in order to help them in farming. Darshan Singh, son of Mr Sukhdev Singh, a resident of this village left school after class VII. His two other sons, Sewak and Jagga have, however, not been able to attend school at all.
EARLIER STORIES
(links open in a new window)
Fiji PM, Cabinet taken hostage
May 20, 2000
Lanka ready for talks with LTTE
May 19, 2000
23 killed in Lanka blast
May 18, 2000
Bill on devolution of taxes passed
May 17, 2000
J & K minister killed in landmine blast
May 16, 2000
40 feared as bus falls into canal
May 15, 2000
Troops repulse LTTE attacks
May 14, 2000
LTTE signal centre smashed
May 13, 2000
Lankan jets pound LTTE areas
May 12, 2000