Sunday, May 21, 2000,
Chandigarh, India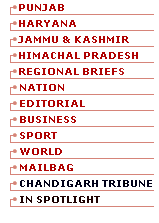 M A I N N E W S
Indebted farmers pull kids out of schools
From Chander Parkash
Tribune News Service
SINGO, (Bathinda), May 20 — As farms in many villages of Talwandi Sabo subdivision in the district have stopped being profitable propositions, the farmers who are entangled in debt trap have started forcing their wards to leave school in order to help them in farming. Darshan Singh, son of Mr Sukhdev Singh, a resident of this village left school after class VII. His two other sons, Sewak and Jagga have, however, not been able to attend school at all.
Sewa Singh of Lehiri village, who owns nine acres, has been finding it difficult to gather enough money to finance education of his children — two sons and two daughters. Gurpinder Singh, son of Sewa Singh, left school after the class VIII.
The plight of Nachhattar Singh of Lehiri village, who owns 16 acres is no different as he is not able to arrange school education for his two children — a son and a daughter. His son is now a school drop out.
Sewa Singh says, "I used to pay Rs 30,000 per year to farm help but now my son does that work and I save Rs 30,000 per year, which is more important in the present circumstances than the education of my son".
Gurdev Singh, a resident of this village, pointed out that education of children of small and marginal farmers depended upon the economic condition of the farmer. He added that if the economic conditions of the farmers were bad, the school drop out rate was found to be high.
A random survey conducted by this correspondent in many villages of this district revealed that most of the farmers had incurred heavy debts due to successive crop failure. Apart from this, the amount of debt increased every year due to increase in the cost of cultivation.
Gurchet Singh of Mirjana village, who owns six acres and has financial liabilities worth Rs 2 lakh, says "There is no benefit in giving school education to our sons and daughters as first we will have to take loan for paying their fee, arranging school uniforms and books and then we will have to sell our land to arrange money to grease the palms of a politician to secure a government job for them".
Peechar Singh, a resident of Kalalwala village, pointed out that the Punjab Government had given hundreds of crores of rupees for removing waterlogging in Gidderbaha, the home town of the state Chief Minister, Mr Parkash Singh Badal, in the last three years. But it had not allocated even a single penny for removing waterlogging in about 1,500 acres in Fattabalu, Kalalwala, Riyya, Golawala and Mirjana villages.