IN PASSING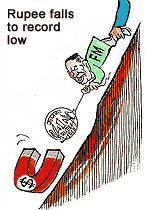 Let me tell you, pulling my leg won't help!
By Sandeep Joshi
Air-Taxi service for Punjab
CHANDIGARH, May 31 —Punjab will soon have an air-taxi service linking some of its key cities and major destinations outside the state. The Punjab State Industrial Development Corporation (PSIDC) has signed a memorandum of understanding with Vikram Aviation Pvt Ltd (VAPL) company of New Delhi which has further separately entered into a management and equity participation agreement with an Israel company, Messers TIL Defence Systems.
IT dept identifies Kapil, Azhar's assets
NEW DELHI, May 31 — The Income Tax Department had identified assets of some present and past cricketers in the light of match-fixing allegations against them highly-placed sources in the department said tonight.
No move to free TADA detainees: DGP
JALANDHAR, May 31 — Punjab Police chief Sarabjit Singh today said no directions had been received from any quarters for the release of militants booked under the Terrorist and Disruptive Practices (Prevention) Act.
Staff play truant to do business
HISAR, May 31 — Truancy among government employees is on the rise. While no department seems to be totally immune to it, the tendency is more pronounced among employees of the Education, Veterinary and Health Departments, especially those posted in the rural areas where day-to-day monitoring is difficult.
EARLIER STORIES
(links open in a new window)
Nailatikau named Fiji PM
May 31, 2000
Military takes over in Fiji
May 30, 2000
Gunshots near Mara's house
May 29, 2000
Prabhakar produces videotape as 'evidence'
May 28, 2000
15 ultras die in two operations
May 27, 2000
Speight rejects chiefs' plan
May 26, 2000
India, USA oppose Tamil state
May 25, 2000
India ready to evacuate Lankan troops
May 24, 2000
10 more companies for Tripura
May 23, 2000
NLFT on killing spree, toll 45
May 22, 2000
Cut subsidies, PM tells states
May 21, 2000
Fiji PM, Cabinet taken hostage
May 20, 2000