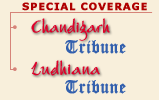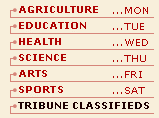 14 LTTE rebels killed in Jaffna
COLOMBO, June 4 — The Sri Lankan army today claimed to have killed 14 LTTE rebels in close encounters in three different places in the northern Jaffna peninsula.
5 hacked to death in Bihar
NAWADA, (Bihar), June 4 — In the second massacre in a fortnight, five persons, including a woman, belonging to backward Yadava community were hacked to death in sleep by unidentified assailants at a village in Bihar's Nawada district late last night, a police official said today.
Lightning, storm claim 11 lives
CHANDIGARH, June 4 — A powerful storm accompanied by moderate rain which swept across Punjab, Haryana and Chandigarh yesterday and today, claimed 11 lives in the regions including six children, and threw normal life out of gear with the mercury plummeting to three degrees below normal at a few places in the region.