Wednesday, June 7, 2000,
Chandigarh, India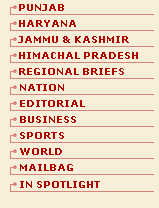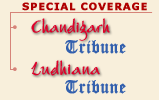 H A R Y A N A
Imported milk scare leads to milch cattle sale
HISAR, June 6 — It has been a long hard summer for the milch animals but the summer blues refuse to go away. Just as relief from drought appeared well within sight the animals' owners are deserting them for fear of a fall in their prices due to reports of influx of imported milk and dairy products in neighbouring Punjab.
Anti-encrachment drive gathers steam
ROHTAK: An anti-encroachment drive in the town and nearby areas is in full swing these days. A large number of illegal constructions, especially on the main roads and the commercial areas, have been razed to the ground by the administration in the past month.
Carrot-and-stick approach to polluting units
GURGAON, JUNE 6 — The Haryana government will intensify efforts to rope in the Public Health Department and the Forest Department for evolving an integrated approach towards pollution. This was stated here yesterday by the Commissioner and Secretary, Environment, Haryana, Mr D.S. Dhesi.
Partap Singh's plea dismissed
CHANDIGARH, June 6 — The plea of Mr Partap Singh, son of the Devi Lal and brother of the Haryana Chief Minister seeking the transfer of the corruption case against Mr Sampat Singh, at present Finance Minister, Haryana from the court of Mr P.C. Goyal, Additional Sessions Judge, Hisan, to some other judge was dismissed today by Mr Justice Amarbir Singh Gill of the Punjab and Haryana High Court.
Governor to open projects on Mahabharata
KURUKSHETRA, June 6 — Six projects at a cost of over Rs 3.88 crore are being inaugurated here by the Haryana Governor, Mr Mahabir Prasad, on June 8. The Governor, whose term ends in mid-June would inaugurate about half a dozen projects which were taken in hand by the Kurukshetra Development Board (KDB) some times back.
Power arrears: tough time
ahead for INLD
June 6, 2000
Justice 'eludes' youth
June 5, 2000
Scam in relief, alleges Chautala's brother
June 4, 2000
Looking for Viagra, come to Haryana
June 3, 2000
Challenges for Chautala after Rori
June 2, 2000
Full-fledged university likely at Sirsa
June 1, 2000
Power sector scenario grim
May 31, 2000
Mobilise own funds, universities told
May 30, 2000
Roll back liberalisation: 4 ex-PMs
May 29, 2000
More names on net likely: CVC
May 28, 2000
13 cops suspended, probe ordered
May 27, 2000