Wednesday, June 7, 2000,
Chandigarh, India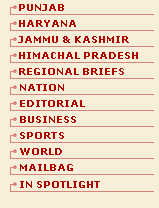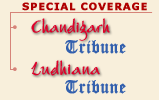 S P O T L I G H T
India-bound shipment seized
SOFIA, June 6 (Reuters) — Bulgarian Customs had confiscated two MiG-21 jet fighter canopies which were about to be exported to India by a local company without a permit, a Customs spokesman said today. "The shipment was seized by Customs at Sofia Airport. It was packed in two large wooden boxes marked as exhibition items and was bound for Mumbai", spokesman Ivan Kutevski told Reuters.
Solomons PM
SYDNEY, June 6 (DPA) — The Solomon Islands Government met a key demand of rebels by announcing that Prime Minister Bartholomew Ulufa'alu would resign. Mr Ulufa' alu had been held at gunpoint since Sunday when the Malaitan Eagle Force took control of the capital, Honiara.
4 Indians killed
MOSCOW, June 6 (PTI) — Four Indians were killed and 15 injured in a road accident in Ukraine, ITAR-Tass reported from Kiev today. The 19 Indians, said to be illegal immigrants, were heading for Ukraine's western border with Poland in a private van yesterday.