IN PASSING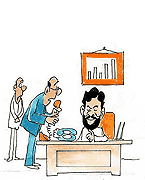 One more free "phonewala", sir.
By Sandeep Joshi
Farmers to pay more for water
CHANDIGARH, June 13 — Farmers in Haryana will have to pay more for the canal water they use to irrigate their fields. The increase in the irrigation charges will be effective from the next crop season.
Two confess to kids' killing
JALANDHAR, June 13 — A sordid tale of doing two school-going kids to death out of sheer jealousy and an urge to get rich quickly was unveiled by two of their neighbours, who were arrested by the police today for committing the heinous crime.
Kidnapped boy strangled
DHANDRAN (Ludhiana), June 13 — A seven-year-old boy who was kidnapped by one of the farm hands in his father's fields was strangled because the kidnapper did not have the resources to keep the child in hiding till he got the ransom amount from the family.
A bovine scam
GURGAON, June 13 — If Bihar has earned notoriety for its fodder scam, Haryana is not far behind with a bovine scandal of its own.

Ravi: bane of BSF patrols
DHUSSI BUNDH (Indo-Pakistan Border), June 13 — "No approach road is left for watch and ward and communication for the Border Security Force posted at the five border observation posts. Hence, to maintain proper liaison and communication for the BSF personnel it is essential to extend the deflecting spurs which would ultimately improve patrolling of the BSF and also help in checking entries of bad elements across the border".
EARLIER STORIES
(links open in a new window)
India offers $ 100 m credit to Lanka
June 13, 2000
30 jawans killed in bus mishap
June 12, 2000
Jaswant visits Lanka today
June 11, 2000
Harpreet Kaur's death: HC orders CBI probe
June 10, 2000
No rift in NDA on Lanka: DMK
June 9, 2000
Lankan minister among 22 killed
June 8, 2000
Govt firm on Lanka unity
June 7, 2000
Kol dam work gets going
June 6, 2000
USA, Russia agree on plutonium cut
June 5, 2000
PM announces Rohtang tunnel
June 4, 2000
11 killed in J&K blast
June 3, 2000