Saturday, June 17, 2000,
Chandigarh, India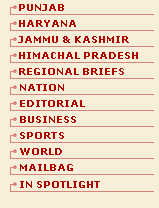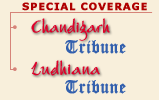 H I M A C H A L P R A D E S H
BRO planning route from HP to Leh
SHIMLA, June 16 — The Border Roads Organisation (BRO) is examining the feasibility of constructing an alternative road to the frontier area of Leh from Himachal Pradesh as the Srinagar-Leh highway has become unsafe by being in the direct firing range of Pakistan.
Dhumal weakened HVC: Sukh Ram
CHAMBA, June 16 — Mr Sukh Ram, president of the Himachal Vikas Congress (HVC) has warned that Himachal Chief Minister Prem Kumar Dhumal would have to face consequences of his decision retaining Mr Mohinder Singh, Himachal Public Works Minister in his cabinet at the cost of the H.V.C. despite the HVC's demand to sack him from the Cabinet. He is a defector of the HVC, he said, while addressing reporters at Chamba last night.
Torrential rain claims 2 lives
MANDI, June 16 — The torrential rain which lashed Mandi and its suburbs last night for about nine hours left two persons dead and caused widespread damage to property in and around the town. Heavy rain also disrupted the traffic, telecommunication lines, power and water supply.
Church stoned, provided with security
KULU, June16 — Mr Anurag Garg, Superintendent of Police, said here today, that some mischievous persons threw stones on the roof of a local church, situated at Dhalpur, last night.
Shastri's tip on global competition
SHIMLA, June 16 — The Himachal Governor, Mr Vishnu Kant Shastri, has said that the country could stand up to global competition only by making rapid advances in the technological front.
Himachal shifts police officers
SHIMLA, June 16 — In a reshuffle of the Police Department the Superintendent of Police, Mr K.C. Sadyal and Mr S.R. Mardi were today promoted as DIG. Besides, three other senior IPS officers were also transferred.
Shimla traffic hit due to landslide
June 16, 2000
KVIC to produce biofertilisers on large scale
June 15, 2000
5 Tibetan monks, 20 others held
June 14, 2000
CM tried to split Cong: Virbhadra
June 13, 2000
Virbhadra: lift ban on khair tree export
June 12, 2000
Adopt modern tech for mining: Dhumal
June 11, 2000
HP introduces IT in plus two
June 10, 2000
Ministers defend HP role in Kol Dam
June 9, 2000
PM's visit a boon for HP
June 8, 2000
Dhumal clears air on financial crisis
June 7, 2000
4 workers die of asphyxiation
June 6, 2000