Saturday, June 17, 2000,
Chandigarh, India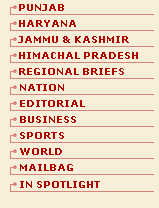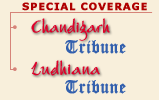 S P O T L I G H T
Prithvi test-fired successfully
BALASORE, June 16 (PTI) — India today again successfully test-fired Prithvi, the medium-range surface-to-surface missile, from the Interim Test Range (ITR) at Chandipur, near here, official sources said. The missile, developed by the Defence Research and Development Organisation (DRDO) under the Integrated Guided Missile Development Programme (IGDMP), has a range of 150 km to 250 km with a payload of 1,000 kg.
Imam murdered
MOSCOW, June 16 (DPA) — An Islamic religious leader in Chechnya was murdered by unidentified attackers early today, the Russian security forces told the Interfax news agency. The man, identified only as Idrisov, was the Imam of the Urus-Martan region southwest of the capital Grozny.
Babu Parmanand
Tribune News Service
CHANDIGARH, June 16 — Babu Parmanand will be sworn in as the Governor of Haryana next Monday at 1 p.m, official sources said. The new Governor will be the third Dalit Governor of the state after Mr Dhanik Lal Mandal and Mr Mahabir Prasad.