IN PASSING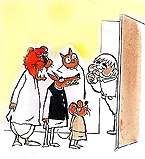 Do you think there is jungle raj in Bihar?
By Sandeep Joshi
Major, SPOs among 17 killed
Blast near shrine, 2 hurt
SRINAGAR, June 17 — Nine militants were killed and 11 captured in separate encounters with security forces while two devotees were injured when militants exploded a grenade outside a shrine in Jammu and Kashmir since last evening, an official spokesman said here today.
Salman, Saif chargesheeted
JODHPUR, June 17 — Bollywood stars Salman Khan, Saif Ali Khan, Tabu, Neelam and Sonali Bendre were today chargesheeted in the court of the Additional Judicial Magistrate here for killing two black bucks in October, 1998.
8 of family die in mishap
KARNAL, June 17 — Eight persons died on the spot and two were injured in a mishap near Taraori on the national highway about 12 km, from here, early this morning.
Patney to be IAF Vice-Chief
NEW DELHI, June 17 — Air Marshal Vinod Patney, who played a crucial role in formulating the IAF strategy during the Kargil conflict would be the new Vice-Chief of Air Staff.
Engineer's kin selling canal water
FAZILKA, June 17 — While farmers in most tail-end villages continue to face acute shortage of irrigation water, the brother of a senior Punjab Irrigation Department officer is pumping out water from Bhagsar minor canal and selling it in the market.
EARLIER STORIES
(links open in a new window)
Azhar, Kapil should quit: Dhindsa
June 17, 2000
Azhar introduced me to bookie: Cronje
June 16, 2000
Nine killed in UP poll violence
June 15, 2000
SAD expels 9 MLAs
June 14, 2000
India offers $ 100 m credit to Lanka
June 13, 2000
30 jawans killed in bus mishap
June 12, 2000
Jaswant visits Lanka today
June 11, 2000
Harpreet Kaur's death: HC orders CBI probe
June 10, 2000
No rift in NDA on Lanka: DMK
June 9, 2000
Lankan minister among 22 killed
June 8, 2000
Govt firm on Lanka unity
June 7, 2000
Kol dam work gets going
June 6, 2000