Sunday, June 18, 2000,
Chandigarh, India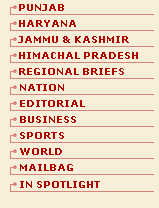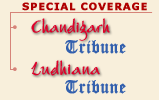 S P O T L I G H T
3 killed in UP poll violence
LUCKNOW, June 17 (PTI) — Three persons were killed and 18 injured in the second phase of panchayat elections in UP as 70 to 75 per cent votes were cast today. A Home Department spokesman told newspersons that two persons were killed in Mathura and one in Bijnore in police firing and group clash and about 70 persons arrested in other parts of the state. According to a report from Mathura, one person was killed when the police opened fire to check a rampaging mob in the Surir police station area, he said, adding that another person died in a clash between two groups of people in the Mant police station area.
Kairon manhandled
Tribune News Service
AMRITSAR, June 17 — Mr Surinder Singh Kairon, former MP and close relative of Chief Minister Parkash Singh Badal was manhandled by an unruly mob led by Mr Gurchet Singh Bhullar, a former Congress Minister, at Khemkaran, 40 km from here, today. The incident occurred at the time of polling of Nagar Panchayat. Trouble started when he was allegedly trying to enter the polling station unauthorisedly. The irate mob also pelted stone at the polling station. The turban of Mr Kairon was also tossed.
Plea dismissed
KOCHI, June 17 (UNI) — The Kerala High Court today dismissed the election petition of ruling Left Democratic Front (LDF) convener V.S. Achuthanandan seeking to declare the election of Congress candidate P.J. Francis from the Mararikulam Assembly constituency as null and void. Dismissing the petition, Mr Justice K.V. Sankara Narayanan observed that none of the allegations in the petition were proved and ordered the petitioner to pay Rs 10,000 to Mr Francis as costs.
PM to visit USA
WASHINGTON, June 17 (PTI) — Prime Minister Atal Behari Vajpayee will visit Washington in mid-September, the Indian Ambassador to the USA has said. "We are just finalising the dates," Mr Naresh Chandra told the US-India Business Council here yesterday.
New Tripura Governor
NEW DELHI, June 17 (PTI) — Lt-Gen K.M. Seth, who retired as Adjutant-General a few years back, was today appointed Governor of Tripura. Gen Seth succeeds Mr Siddeshwar Prasad, an official press note said.