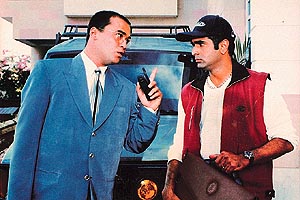 And then start the typical problems of a teenaged girl — from boyfriends and make-up to the conflicts of moral values making O' Daddy an eminently watchable serial.
Ticket to success
His girth is too large. His complexion too dark. His neck too short. He is on the wrong side of the forties. Crows' feet mark his eyes. His jowls hang loose. And by Jove, what an actor he is!
Two Filmfare awards for 'best actor in a comic role'. A Screen Videocon Award for the Best Anchor in a TV countdown show. Accolades for directing the superhit, Hum Apke Dil Mein Rahate Hain and now, a grim award-winning role in a stage play, Salesman Ramlal.
Actor, director, TV anchor, theatre man Satish Kaushik by his own description he is a unity of many irregularities. He re-wrote the canons of comedy with his role of Paa-Jee a punjabi bumpkin from Phagwara, in the countdown show Philips Top Ten.
The good news is that Paa-jee is coming back to Philips Top Ten. In fact ever since he and Mohan Kapoor left, the show has been reduced to a farce. Now with its TRP falling to dismal levels, sponsors have persuaded him to return and salvage the show.
Today, Kaushik can look back with satisfaction. Once dubbed a flop, he is today a sought after man in films and TV. It is mega roles, mega billings and mega money. How times change!
No kid-stuff this!
They may profess to like MTV, McDonald's, Wranglers, Levi's, and Coke, but when it comes to real buying decisions, Indian kids seem to say: Phir Bhi Dil Hai Hindustani.
A recent wide-ranging survey, conducted by leading American agency, A.C. Nielsen for Cartoon Network, has thrown up some interesting revelations. Titled New Gener Asians, the survey reveals that seven of the top ten products that enjoyed the strongest recall value among Indian kids are local brands like Titan Watches, Ruf 'n Tuf Jeans, Uncle Chipps, Action Shoes, Boomer Chewing Gum and Maruti car.
Other revelations are equally interesting. For example, kids in Bangalore have the highest PC/Internet access in India, with 60 per cent of those interviewed having access to computers. Ahmedabad is second with 55 per cent, Mumbai is third with 52 per cent and Chennai a close fourth with 51 per cent. And it took us a TV company's survey to explain why the Indian TT professionals are winning over the West.
Rakhi's all tied up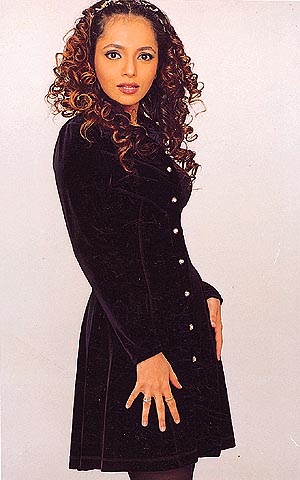 She says she has finally arrived in her field of dreams. Just a few years ago she was known a face on TV who endorsed products like Thums Up, Cadbury, Ponds Cream, Wall's Ice Cream and more.
Today Rakhi Tandon is busy becoming a model TV star. In fact she is among the most in-demand new generation TV personalities. And it has taken her five years and 13 serials to achieve that.
Besides doing sitcoms like Banegi Apni Batt, Hum Paanch, Dekh Bhai Dekh, Rakhi has produced six serials including the currently-on madcap comedy Cincinnati Bublaboo. "I wanted my own space and didn't want to keep acting under someone's direction," says Rakhi, whose company R.T. entertainment with husband Raj Tandon has produced serials like Heena, Prof Pyarelal, Rishtey and episodes of X-Zones and Saturday Suspense. And what about movies? "No thank you. My hands are already full. Besides, one film actress is enough in the family," says Rakhi referring to her sister-in-law, Raveena Tandon. Make that two in a family!
Life in the deep freeze
Freezing cold water can be man's worst enemy, numbing the senses and extinguishing life in a matter of minutes. But under some circumstances, deathly cold water can actually be a lifesaver. As Ed Tiemstra found out when his son Dusty fell into an icy lake.
In Shiver, June 18 at 7.30 p.m., the National Geographic Channel explains what in medical terminology is known as the Mammalian Drive Reflex — that all humans have a built-in defence system which protects them from drowning.
When and why this defence system kicks is not fully understood. All Ed Tiemstra knows is that his son is alive and unaffected after spending more than 10 minutes under freezing water, thanks to the Mammalian Drive Reflex, a marvel of evolution.
When a large body of cold water hits the face, respiration ceases, metabolism slows and blood changes its normal course and reroutes itself to vital organs like the heart and brain.
The Mammalian Drive Reflex can lower the body'd core temperature 30 degrees Fahrenheit and allow a near-drowning victim to survive underwater for up to an hour without any permanent brain damage. Facts sure are stranger than fiction!
— Mukesh Khosla