Wednesday, June 21, 2000,
Chandigarh, India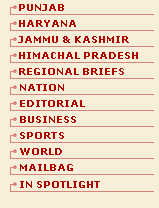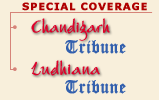 M A I N N E W S
Uncertainty grips KU
From K.G. Dutt
Tribune News Service
KURUKSHETRA, June 20 — Uncertainty has gripped Kurukshetra University over the newly-appointed Vice-Chancellor, Mr R.S. Chaudhary. Mr Chaudhary has not joined so far even though the then Governor of Haryana and Chancellor of the university, Mr Mahabir Prasad, had passed orders over a week ago. In the absence of the new Vice-Chancellor, many vital decisions which have a bearing on the new academic session starting in July remain pending.
Inquiries made, however, indicate that the appointment of the new Vice-Chancellor violates the rules of the University Calendar. The appointment letter issued by the Chancellor to Mr Chaudhary on June 12 clearly stipulates that the term of the new Vice-Chancellor will be for three years whereas clause 2 of the University Calendar states that "the Vice-Chancellor shall hold office for a period of three years which may be renewed for not more than one term provided that no person shall be appointed to, or continue in, the office of the Vice-Chancellor, if he has attained the age of 65 years." But inquiries made by TNS show that Mr Chaudhary would cross the age of 65 years by the time he completes his three-year term as Vice-Chancellor.
The natural corollary is that either the state government has to amend the university statute to allow Mr Chaudhary to complete his full term or he would have to resign on completion of 65 years of age before completing his term.
It is learnt that the search committee at a meeting held on June 10 had recommended five names for consideration for appointment as the Vice-Chancellor. The panel of names comprised Dr Hoshiar Singh, Pro Vice-Chancellor of the university, Prof R.P. Kaushik of Jawaharlal Nehru University, Prof J.P. Gupta of the Management of Technology Institute, Gwalior, Prof Niranjan Singh of Guru Nanak Dev University, Amritsar, and Mr R.S. Chaudhary.
The committee after deliberations, is believed to have written a note which said that Prof R.P. Kaushik and Mr R.S. Chaudhary would not be able to complete their full term as they would complete 65 years age off before the expiry of their term. The note was attached with the recommendations of the committee. How and why the note escaped the notice of the then Governor and Chancellor is not clear. Now, as per the University Calendar, Mr Chaudhary would have to quit before the expiry of his term in case he joins.
Meanwhile, new admissions in the varsity and the affiliated colleges are starting from the first week of July. The varsity has to finalise new guidelines regarding admissions and take decisions on starting new job-oriented courses on the campus as well as in the affiliated colleges.
The acting Vice-Chancellor, Dr Hoshiar Singh, is not in a position to take such vital decisions. Therefore, important decisions are being kept pending till the new Vice-Chancellor takes over.