IN PASSING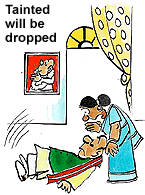 Don't worry. This is about cricketers, and not politicians!
By Sandeep Joshi
Interpol to intensify cooperation
PARIS, June 20 — Union Home Minister L.K. Advani held detailed discussions with senior officials of the Interpol to enhance the international organisation's cooperation with Indian law enforcing agencies to combat terrorism, official sources said here today.

Home Minister L.K Advani and his daughter Pratibha listen to explanations during his visit to Interpol in Lyon on Monday. AP/PTI photo
Duo poisons 6 to death
JALANDHAR, June 20 — Irked over being pulled up for stealing milk, two Nepali farm labourers poisoned a group of Punjabi labourers working in a sunflower field in Raiwal village, resulting in the death of six of them while 13 of them suffered severe food poisoning.
Mohan's name cleared for Home Secy's post
CHANDIGARH, June 20 — The Union Home Ministry is reported to have cleared the name of Mr Krishan Mohan, a former Deputy Commissioner-cum-Estate Officer of Chandigarh, for the post of Home Secretary, Chandigarh Administration.
Uncertainty grips KU
KURUKSHETRA, June 20 — Uncertainty has gripped Kurukshetra University over the newly-appointed Vice-Chancellor, Mr R.S. Chaudhary. Mr Chaudhary has not joined so far even though the then Governor of Haryana and Chancellor of the university, Mr Mahabir Prasad, had passed orders over a week ago.
EARLIER STORIES
(links open in a new window)
Autonomy session begins
June 20, 2000
Bihar carnage: Special court to try killers
June 19, 2000
Ranvir Sena massacres 35 in Bihar"
June 18, 2000
Azhar, Kapil should quit: Dhindsa
June 17, 2000
Azhar introduced me to bookie: Cronje
June 16, 2000
Nine killed in UP poll violence
June 15, 2000
SAD expels 9 MLAs
June 14, 2000
India offers $ 100 m credit to Lanka
June 13, 2000
30 jawans killed in bus mishap
June 12, 2000
Jaswant visits Lanka today
June 11, 2000
Harpreet Kaur's death: HC orders CBI probe
June 10, 2000
No rift in NDA on Lanka: DMK
June 9, 2000