THE TRIBUNE MAGAZINES
On Sundays

On Saturdays

IN PASSING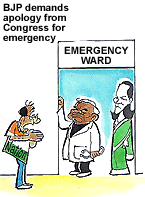 Will you please spare me? I would also do much better without emergency!
By Sandeep Joshi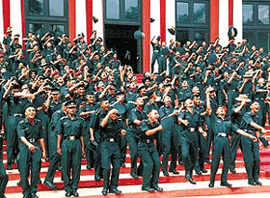 Newly-commissioned Lieutenants break into a festive mood soon after the piping and oath-taking ceremony during the Passing Out Parade of the Spring Term, 2000, at the Indian Military Academy in Dehra Dun on Saturday. — Tribune photo by Pankaj Sharma
IMA to raise cadet strength
DEHRA DUN, June 24 — In an endeavour to offset shortage of officers in the Army, a 60 per cent increase in the capability of the Indian Military Academy (IMA) here is being undertaken.
Fiji talks end in deadlock
SUVA, June 24 — Talks aimed at freeing 31 hostages held by coup plotters in Fiji's Parliament ended in deadlock today but an official said a new attempt to reach an agreement would start tomorrow.
Resignation of Shanta loyalist accepted
SHIMLA, June 24 — Soon after the virtual show of strength between the two warring factions of the ruling BJP in Kangra district, the Dhumal government today accepted the resignation of a Shanta Kumar loyalist, Mr Des Raj, from the post of Chairman of the H.P. Finance Commission.
EARLIER STORIES
(links open in a new window)
Fiji rebels, army strike deal
June 24, 2000
NC may put off autonomy debate
June 23, 2000
Farooq favours national debate
June 22, 2000
Stormy start to debate
June 21, 2000
Autonomy session begins
June 20, 2000
Bihar carnage: Special court to try killers
June 19, 2000
Ranvir Sena massacres 35 in Bihar"
June 18, 2000
Azhar, Kapil should quit: Dhindsa
June 17, 2000
Azhar introduced me to bookie: Cronje
June 16, 2000
Nine killed in UP poll violence
June 15, 2000
SAD expels 9 MLAs
June 14, 2000
India offers $ 100 m credit to Lanka
June 13, 2000
30 jawans killed in bus mishap
June 12, 2000
Jaswant visits Lanka today
June 11, 2000
Harpreet Kaur's death: HC orders CBI probe
June 10, 2000
No rift in NDA on Lanka: DMK
June 9, 2000