Monday, June 26, 2000,
Chandigarh, India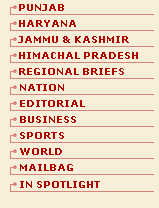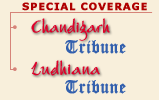 S P O T L I G H T
Archbishop's body brought to Delhi
NEW DELHI, June 25 (PTI) — The body of the Archbishop of Delhi Alan de Lastic, who died in an accident in Poland on June 21, was brought here today by an Air India flight. The body of the 71-year-old priest was taken to holy Family Hospital, Catholic Bishops' Conference in India (CBCI) said, adding that the funeral was expected to take place at the Sacred Cathedral here on Tuesday.
Japanese poll
TOKYO, June 25 (AP) — Prime Minister Yoshiro Mori's ruling coalition held onto power in Japan's lower house election today, winning majority in the 480-seat chamber, national broadcaster NHK and other media reported. The coalition, which campaigned on promises to keep up a massive fiscal spending program to buoy the economy, had been widely expected to garner a majority in the election despite rock-bottom support ratings for Mori's Cabinet.
One killed in clash
MIDNAPORE (WB), June 25 (PTI) — One person was killed and 35 others were injured in a clash between supporters of the Trinamool Congress and the BJP, and ruling CPM at different villages under Garbeta police station in Midnapore district today.