Monday, June 26, 2000,
Chandigarh, India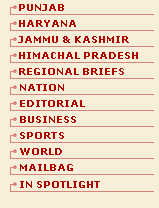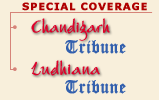 C H A N D I G A R H
Has UPSC corrigendum violated rules?
CHANDIGARH June 25 — Usually the corrigenda are published to clear the confusion but a recent corrigendum, published by the Union Public Service Commission (UPSC) regarding the recruitment of 19 lecturers in the local colleges, seems to have added to the confusion, besides "violating" the recruitment rules framed by the Central Government.

Participants at the 'Disco Deewani-2000', a western filmi and folk dance competition, at Tagore Theatre on Sunday — A Tribune photograph
Captivating performance by dancers
CHANDIGARH June 25 — Dance seems to drive the city youngsters quite a bit. That is perhaps the reason why today's dance contest organised by the Chandigarh Institute of Performing Arts (CIPA) saw nothing less than 43 entries. Whatever the numbers, one thing that was laudable about the evening was that the contest was too close and the five judges really must have had a tough time deciding who was the best.
Cop sets mother, bhabhi on fire; kills himself
CHANDIGARH June 25 — In a bizarre incident here today, Bahadur Singh, a Head Constable posted at Bassi, near Banur, committed suicide after trying to allegedly kill his own mother and sister-in-law by pouring kerosene oil on the two and setting them on fire. Later, he also allegedly stabbed his brother Darshan Singh who tried to rescue his burning relatives.
Cancellation of FIR ordered in missing baby case
SAS NAGAR June 25 — The Judicial Magistrate, Kharar, Ms Neelam Arora, has ordered cancellation of a First Information Report (FIR) registered by the local police in connection with the case of a nine-month old child, Sahib Singh, who has been missing from the township since June, 19. The child had been recovered yesterday by the police from Ludhiana.
All set for 'jugalbandi' in UK
June 25, 2000
Orders to deduct salaries of 650 striking employees
June 24, 2000
Futile exercise to get admission forms
June 23, 2000
Guards yes, night service no
June 22, 2000
UT hikes MBBS fee by 70 pc
June 21, 2000
Metered power supply must for
rehabilitation of slum dwellers
June 20, 2000
PU employees chase their own money
June 19, 2000
Proposals on Army Act gather dust
June 18, 2000
UT Excise & Taxation Department working to be totally computerised
June 17, 2000
Bill on military tribunal on anvil
June 16, 2000
Government violates own bylaws on UT buildings
June 15, 2000
Mini zoo packed off unceremoniously
at ZAI directive
June 14, 2000
RBI rejects applications of 100 NBFCs
June 13, 2000