Wednesday, June 28, 2000
Chandigarh, India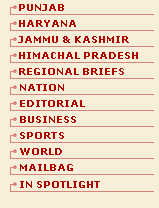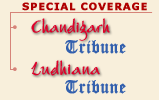 S P O T L I G H T
DMK MLA joins AIADMK
CHENNAI, June 27 (UNI) — In a surprise move, ruling DMK legislator M. Muthuramalingam today quit the party and joined the AIADMK headed by J. Jayalalitha. Mr Muthuramalingam, who represents Thirumangalam near Madurai in the Tamil Nadu Assembly, joined the AIADMK in the presence of party chairman K. Kalimuthu and Ms Jayalalitha private secretary T.T.V. Dinakaran, M.P.
Sharif's plea
KARACHI, June 27 (AFP) — A Pakistan high court today rejected deposed Prime Minister Nawaz Sharif's challenge to its jurisdiction over an appeal against his conviction for hijacking and terrorism. "The application is dismissed,'' a three-judge Bench of the Sindh High Court said in its brief order.
Telecom staff strike
NEW DELHI, June 27 (PTI) — A section of the group 'C' and 'D' telecom employees will go on a day's strike tomorrow to protest against the proposed corporatisation of the Department of Telecom Services (DTS) even as the government today said necessary measures had been taken for smooth functioning of telecom services.