THE TRIBUNE MAGAZINES
On Sundays

On Saturdays

IN PASSING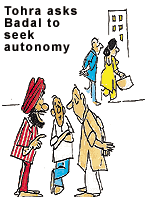 In this country only Ram Vilas Paswan enjoys full autonomy!
By Sandeep Joshi
Sons refuse to go with mother
CHANDIGARH, June 28 — A Bathinda mother's petition for rescuing her sons from the "illegal custody" of their grandfather was dismissed by Mr Justice Nirmal Singh of the Punjab and Haryana High Court today after the two refused to accompany her.
Partial response to telecom stir
NEW DELHI, June 28 — The one-day token strike call given by seven unions to protest against the move for corporatisation of the Department of Telecom Services evoked partial response today as all the four recognised unions boycotted the call.
Setback for Left Front in civic poll
CALCUTTA, June 28 — The ruling Left Front lost the Calcutta Municipal Corporation elections and was fighting neck-and-neck with the Trinamool Congress for the Bidhan Nagar municipality.
New cloning method devised
PARIS, June 28 — The creators of Dolly the sheep, the world's first cloned mammal, have devised a revolutionary method of gene splicing that could lead to tailor-made animals, the British science weekly Nature reports. Two female lambs, called Diana and Cupid, have been cloned from sheep DNA that has been altered to contain specific changes, it says.
RMPs in grip of intoxicants
BATHINDA, June 28 — Manjeet Singh (name changed) who is a registered medical practitioner (RMP) has become a purchaser of intoxicants. Manjeet Singh, who used to sell and prescribe intoxicants to his patients, has been injecting morphine in his veins for a kick daily for the past two years.
SAD for 'true federal India'
CHANDIGARH , June 28 — The ruling Akali Dal shall press hard its political demand to create "a true federal India". It has no intentions to back out from its earlier resolution on autonomy passed at the famous Ludhiana conference in 1978.
EARLIER STORIES
(links open in a new window)
Parliament to decide on J&K resolution
June 28, 2000
J&K autonomy report passed
June 27, 2000
Telecom Dept to be bifurcated
June 26, 2000
Panel on telecom corporatisation
June 25, 2000
Fiji rebels, army strike deal
June 24, 2000
NC may put off autonomy debate
June 23, 2000
Farooq favours national debate
June 22, 2000
Stormy start to debate
June 21, 2000
Autonomy session begins
June 20, 2000
Bihar carnage: Special court to try killers
June 19, 2000
Ranvir Sena massacres 35 in Bihar"
June 18, 2000
Azhar, Kapil should quit: Dhindsa
June 17, 2000
Azhar introduced me to bookie: Cronje
June 16, 2000
Nine killed in UP poll violence
June 15, 2000
SAD expels 9 MLAs
June 14, 2000
India offers $ 100 m credit to Lanka
June 13, 2000
30 jawans killed in bus mishap
June 12, 2000
Jaswant visits Lanka today
June 11, 2000