Wednesday, July 5, 2000,
Chandigarh, India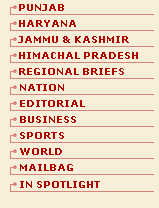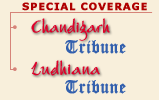 S P O T L I G H T
35 Tamil Tigers killed
COLOMBO, July 4 (UNI) — Thirty five terrorists and four security men were killed in fresh fighting which broke out after a lull of nearly one month in the northern Jaffna when the security forces launched an operation to destroy an LTTE bunker line south of Nagarkovil. Meanwhile President Chandrika Kumaratunga today sent one of her trusted aides Cabinet Minister Lakshman Jayakody as special emissary to apprise the Indian leaders about the constitutional reforms undertaken by her government.
RAF deployed
MIDNAPORE (WB), July 4 (PTI) — The Eastern Frontier Rifles and the Rapid Action Force were deployed today after the recovery of the dismembered body of a man stated to be a Trinamool Congress supporter, at Pingla in Midnapore district, the police said. The headless torso of Ghanashyam Adhikari was recovered yesterday from near a canal at Changkhali area. He was missing since June 30.