Wednesday, July 5, 2000,
Chandigarh, India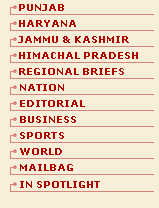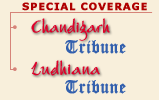 W O R L D


Pak to lend support to Lanka
COLOMBO, July 4 — Pakistan, which recently helped Sri Lanka acquire emergency weapons to fight Tamil Tiger rebels, has assured Colombo of continuing support to combat the guerillas, the state-run Daily News reported today.

Pak statute to have Islamic articles
ISLAMABAD, July 4 — Pakistan's army regime will incorporate the Islamic articles into the provisional constitutional order (PCO) and will not let anything impinge upon the independence of religious schools in the country, a fundamentalist party chief has claimed.

Japanese PM to visit India, Pak
TOKYO, July 4 — The Japanese Prime Minister, Mr Yoshiro Mori, plans to visit India and Pakistan in August to urge them to sign a nuclear test ban treaty, a newspaper said today.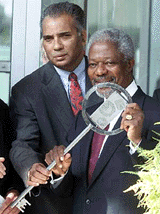 Secretary-General of the United Nations Kofi Annan and President of the Tribunal Chandrasckhara Rao hold up the symbolic key on occasion of the opening of the new building of the International Tribunal for the Law of the Seas in Hamburg, northern Germany, on Monday. The tribunal is responsible for the international compiance of maritime law. — AP/PTI