IN PASSING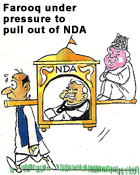 By Sandeep Joshi
No search panel yet on VC's selection
CHANDIGARH, July 7 — No search committee has been set up so far for the appointment of a new Vice-Chancellor of Panjab University even as the present incumbent, Prof M.M. Puri, completes his term on July 22, informed sources said here today.

Tenure of J&K DGP extended
SRINAGAR, July 7 — The Jammu and Kashmir government has extended by one year the tenure of Director-General of Police Gurbachan Jagat.

Popular outrage over house tax move
Bandhs in Haryana towns
PEHOWA, July 7 — This historic town of the Vedic age observed a complete hartal today in protest against the proposed house tax by the Haryana Government. Not a single shop in the entire town was seen open. Pilgrims coming to this town from all over the country in order to offer 'pinds' in memory of their deceased kin were put to great inconvenience as they could not get essential items of food and fruit required during the worship of their ancestors.
EARLIER STORIES
(links open in a new window)
Farooq under pressure to pull out of NDA
July 7, 2000
No pre-'53 status to J&K: PM
July 6, 2000
Cabinet rejects J&K autonomy resolution
July 5, 2000
Autonomy demand will not end: Farooq
July 4, 2000
SAD may go in for mid-term poll
July 3, 2000
Atal meets NDA leaders, Thakre
July 2, 2000
Cabinet to decide on autonomy: PM
July 1, 2000
Jalandhar blast kills two
June 30, 2000
States resist federal agency plan
June 29, 2000
Parliament to decide on J&K resolution
June 28, 2000