IN PASSING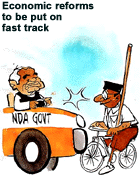 Girl raped, burnt to death?
LUDHIANA, July 12 — Mystery shrouds the death of a 17-year-old girl who was found burnt on the top floor of the two-storeyed house of her foster father at around 9.30 a.m. at Nari Kalan village. She had been living there for the past 13 years.
Beware of destabilising forces: President
NEW DELHI, July 12 — President K.R. Narayanan today cautioned against "fissiparous and disharmonising forces" which were promoting the cult of violence and asked the Governors to make concerted efforts to contain these disturbing trends.
2 die in fresh Tonk clashes
JAIPUR, July 12 — Two persons were killed and three injured today in a fresh bout of violence in Rajasthan's Tonk district taking the death toll in communal clashes since Monday to 12 even as indefinite curfew remained in force in Tonk and Malpura towns, the police said.



Women join battle against liquor
PUNHANA (Gurgaon), July 12 — In a development which is likely to warm the cockles of the hearts of the anti-liquor lobby in Haryana, hundreds of women held demonstrations before a Minister from the state, Mohammad Illyas and the Deputy Commissioner, Gurgaon, Mr Apoorva Kumar Singh, demanding immediate removal of a liquor vend from near village Indana, a few kilometres from here.
EARLIER STORIES
(links open in a new window)
Vajpayee invites CM for talks
July 12, 2000
NC discusses options
July 11, 2000
Crucial NC meeting today
July 10, 2000
BJP leaders back RSS chief's demand on J&K
July 9, 2000
RSS chief asks govt to abrogate Art 370
July 8, 2000
Farooq under pressure to pull out of NDA
July 7, 2000
No pre-'53 status to J&K: PM
July 6, 2000
Cabinet rejects J&K autonomy resolution
July 5, 2000
Autonomy demand will not end: Farooq
July 4, 2000
SAD may go in for mid-term poll
July 3, 2000