Thursday, July 13, 2000,
Chandigarh, India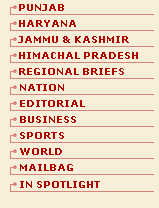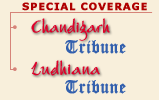 M A I N N E W S
4 J&K youths rescued by Army
Tribune News Service
SRINAGAR, July 12— The Army has handed over four Kashmiri youths to their parents. The youths had surrendered following a militants' encounter with the Army in the Pir Panjal ranges.
The four youths three of them from Anantnag district and one from Baramula district, were handed over to their parents at a function held at the 15 Corps headquarters here today. The youths are in the age group of 15 to 19 years.
They were identified as Shabir Ahmad Bhat, 17, a Class VIII student of Verinag, Anantnag, Riyaz Ahmed Lone, Class IX student of Dewal Gaon village, Anantnag ; Nazir Ahmad Mochi, 15, of Thaman Kot village, Anantnag, and Sajjad Ahmad Ganai, Class IX pass and a car mechanic of Bandipore, Baramula district.
A defence spokesman said the three boys from Anantnag were accosted by a stranger and asked to guide him to a nearby village. En route they were overpowered by militants, who took them to a jungle hideout near Gaudol village in the district. The boy from Bandipore was taken hostage by the person whose car he had repaired and brought to the hideout. In all nine boys were brought to the Gaudol hideout.
On June 21 six boys were being taken by two militants from Gudol when they were challenged by Army personnel at Thil Dhok in the Pir Panjal ranges. One militant Abdul Rehman of Gaudol and Javed Ahmad Dar of Bandipore were killed in the crossfire, while the other militant and a boy managed to escape.
Three boys surrendered to the Army unit at the site of the encounter. One boy surrendered at the Army camp. One pistol, three magazines with 14 rounds and a hand-grenade were found from the site of the encounter, the Defence spokesman stated.