THE TRIBUNE MAGAZINES
On Sundays

On Saturdays

IN PASSING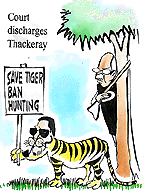 By Sandeep Joshi

SYL: hope turns into despair for Punjab, Haryana. — Photo by Karam Singh

SYL — a canal of suffering
CHANDIGARH: When the monsoon comes, sheets of swirling water leave a trail of death and destruction. Even as telltale signs of the 1993 floods remain, large tracts have been inundated in Patiala and Sangrur districts.
Two lockers opened
NEW DELHI, July 25 — Two lockers, one belonging to a cricketer, were opened by the Income Tax Department here today, setting in the process of examining the contents of a large number of lockers sealed during the countrywide raids last week against cricketers, board officials and bookies.
Truce offer a 'positive sign'
NEW DELHI, July 25 — Caught unaware by the stunning announcement of a unilateral 90-day ceasefire by the pro-Pakistan Hizbul Mujahideen in Srinagar yesterday, the BJP-led National Democratic Alliance government sees in it a ray of hope in getting the peace talks started.
Ceasefire move annoys ultras
JAMMU, July 25 — All-party Hurriyat Conference seems to have been placed a piquant situation following the decision of the Hizbul Mujahideen to declare ceasefire for three months. Jamait-ul-Mujahideen have condemned the decision. The APHC Chairman, Prof Abdul Gani Bhat, refused to comment on the decision. He said the issue "will be discussed by the executive committee of the organisation possibly on Wednesday."
EARLIER STORIES
(links open in a new window)
Jalandhar bus blast kills 7
July 25, 2000
Police gets orders to prosecute Thackeray
July 24, 2000
President pardons Purulia case convicts
July 23, 2000
CRR, bank rate up; Re at all-time low
July 22, 2000
IT raids on premises of cricketers
July 21, 2000
Three Sena ministers quit Union Cabinet
July 20, 2000
Union Cabinet halts Jagmohan's drive
July 19, 2000
51 die in Patna plane crash
July 18, 2000
Thackeray threatens to oust Deshmukh
July 17, 2000
No compromise on autonomy: NC
July 16, 2000