THE TRIBUNE MAGAZINES
On Sundays

On Saturdays

IN PASSING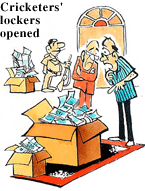 Only this much! Are you sure he is a cricket player?

By Sandeep Joshi
Hizbul expelled from jehad council
ISLAMABAD, July 26 — The United Jehad Council, an umbrella organisation of 16 militant groups fighting in Kashmir, today broke ranks with the Hizbul Mujahideen and vowed to continue its armed struggle against Indian forces in the valley.
Ceasefire by Hizbul 'fallout' of Kargil
NEW DELHI, July 26 — The Defence Minister, Mr George Fernandes, today attributed the unilateral ceasefire announced by the Kashmiri militant organisation Hizbul Mujahideen to the direct fallout of the Indian victory over Pakistan in Kargil last year.
Jewellery worth 15 lakh recovered from lockers
NEW DELHI, July 26 — The Income Tax (IT) authorities today opened three more lockers belonging to a bookie and recovered jewellery worth Rs 10 lakh from it, IT sources said here. With this the number of lockers, sealed during the massive searches conducted by the authorities on the premises of top cricketers, administrators and bookies, opened since yesterday goes to five.
FCI not to procure paddy
CHANDIGARH, July 26 — The Food Corporation of India (FCI) is to wash its hands off paddy procurement in Punjab in the forthcoming kharif season.

Secrecy gets go-by in banks
HISAR, July 26 — Snooping on others' bank accounts is fast becoming a popular practice. While businessmen resort to it to upstage their rivals, others snoop on bank accounts for purposes as varied as finding the bank balance of the prospective father-in-law of their daughter, it is learnt.
EARLIER STORIES
(links open in a new window)
Court discharges Thackeray
July 26, 2000
Jalandhar bus blast kills 7
July 25, 2000
Police gets orders to prosecute Thackeray
July 24, 2000
President pardons Purulia case convicts
July 23, 2000
CRR, bank rate up; Re at all-time low
July 22, 2000
IT raids on premises of cricketers
July 21, 2000
Three Sena ministers quit Union Cabinet
July 20, 2000
Union Cabinet halts Jagmohan's drive
July 19, 2000
51 die in Patna plane crash
July 18, 2000
Thackeray threatens to oust Deshmukh
July 17, 2000
No compromise on autonomy: NC
July 16, 2000