Thursday, July 27, 2000,
Chandigarh, India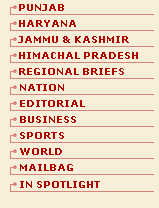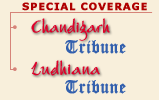 S P O T L I G H T
George Speight arrested
SUVA, July 26 (Reuters) — Fiji coup leader George Speight was arrested today on suspicion of arms offences and threats to the President, the military said, adding that an earlier amnesty offer had yet to take effect. Speight, who sparked a political crisis when he stormed Parliament in May taking most of the Cabinet hostage, was stopped at a bridge checkpoint in Kolabu, 18 km east of Suva, where scores of supporters had gathered. "There are a number of allegations that were being brought to us about the carriage of arms in and around Suva by George Speight and his bodyguards and about threats to the Head of State," military spokesman Lieut-Col Filipo Tarakinikini told Reuters.
Cops call off stir
PATNA, July 26 (UNI) — The three-day strike by 18,000 policemen was called off today with the state government withdrawing the dismissal of Bihar Police Association (BPA) general secretary K.K. Jha and also the suspension of over 350 policemen who had joined the agitation. Mr Jha said the state government had given an assurance to sympathetically consider all their demands within 15 days.