Thursday, July 27, 2000,
Chandigarh, India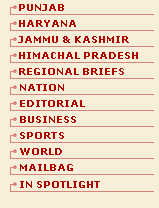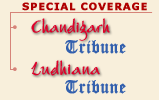 S P O R T

60-member squad for Olympics
NEW DELHI, July 26 — India is likely to send a 60-member contingent for the Olympic Games to be held in Sydney in September this year. This was indicated here today by Indian Olympic Association (IOA) President Suresh Kalmadi while signing a sponsorship contract with Samsung India Electronics Ltd vice-president J H Park.
| | |
| --- | --- |
| | Russian women's 1500 m winner Svetlana Masterkova crosses the finish line at the Barcelona Athletics meeting at Montjuich Olympic stadium on Tuesday. She clocked 4.02.78.— Reuters |
Ramesh wins, Kidambi held
BIEL (Switzerland), July 26 — Indian youngster S. Kidambi held GM R. Kempinski (rating 2498) of Poland to a draw in the 2nd round of the 'BIEL International Open Chess Tournament' at BIEL, Switzerland, as many Grandmasters had a tough day dropping half points.
Waugh dismisses Imran's remarks
SYDNEY, July 26 — Australian Test batsman Mark Waugh said he was prepared to have his financial records scrutinised to prove he told the truth about his dealings with an Indian bookmaker.
I have said enough, says Latif
KARACHI, July 26 — Former Pakistan captain Rashid Latif today said he will never indulge in any controversy again and now seriously wants to resurrect his career and also concentrate on building and promoting his cricket academy, which has already gained a lot of acceptance in a short span of time.
Spy for Pakistan cricket team
KARACHI, July 26 — Pakistan cricketers, dogged by allegations of corruption, will have an undercover agent assigned to spy on them during home and away tours, local media reported today.
EARLIER STORIES
(Links open in new window)
"Sprint Queen" bids adieu
July 26, 2000
John Capel shocks Greene, Johnson
July 25, 2000
Murali spins Lanka to win
July 24, 2000
Murali forces SA to follow on
July 23, 2000
Jayawardene's ton lifts Lanka
July 22, 2000
Argentina down Equador
July 21, 2000
SA face Lankan spin test
July 20, 2000
Randhawa qualifies for British Open
July 19, 2000
Anand fails to win title
July 18, 2000
Greene, Jones for Sydney
July 17, 2000
Australia in final of Davis Cup
July 16, 2000
England revive hopes with win
July 15, 2000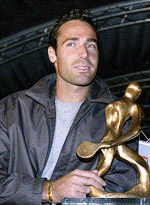 Spain's Alex Corretja holds the trophy after he was awarded most popular tennis player by journalists during the "Players Night" in Kitzbuehel on Tuesday — Reuters.