Monday, July 31, 2000,
Chandigarh, India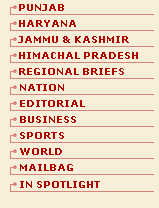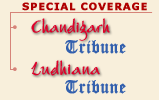 S P O T L I G H T
Ship catches fire, 520 rescued
MANILA, July 30 (AP) ó All 520 passengers aboard a Philippine passenger ship were safely transferred to another ship after their vesselís engine room caught fire, a company official said today. The ship, the MV Trans Asia-1, was travelling from Cagayan de Oro to Cebu in the central Philippines when a fire broke out in its engine room late yesterday, said Jonji Gonzales, spokesman for Trans Asia Shipping Lines.
Badalís copter forcelands
CHANDIGARH, July 30 (PTI) ó The helicopter carrying Punjab Chief Minister Parkash Singh Badal had to forceland at Panchkula in Haryana this evening as the chopper could not land here due to bad weather, official sources told PTI here tonight. The sources said that the helicopter was forced to land across the River Ghaggar in Sector 21 of Panchkula as the chopper on a flight from Amritsar to Chandigarh could not land at the airport here as the visibility was reduced to almost nil this evening when the union territory was lashed with heavy showers.
Jyoti Basu recovers
NEW DELHI, July 30 (UNI) ó West Bengal Chief Minister and veteran Communist leader Jyoti Basu, who was hospitalised for two days at the All-India Institute of Medical Sciences (AIIMS) after he reported uneasiness and restlessness on Friday, left for Calcutta today. Mr Basuís condition was much better and he took the 6.30 p m Indian Airlines flight home.
Sadhu Yadav ill
NEW DELHI, July 30 (UNI) ó Bihar Chief Minister Rabri Deviís brother Sadhu Yadav, an influential personality in state politics, is undergoing treatment at Indraprastha Apollo Hospital here and his condition is stated to be serious. Hospital sources said Mr Yadav was admitted two days ago following a paralytic stroke on his left side. He had suffered the stroke in Patna and was flown here. He is still in a semi-conscious state.