25 killed in gunbattle at Pahalgam
SRINAGAR, Aug 1 — At least 25 persons, including three Amarnath yatris, were killed and 35 injured in a fierce gunbattle between militants and security personnel at Pahalgam, the base camp for Amarnath Yatra, 100 km from here, this evening.
J&K page: Attack on pilgrim camp; 1 ultra shot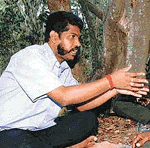 Gopal leaves for Veerappan's den
Task force halts operations
CHENNAI, Aug 1 — R.R Gopal, editor of Tamil bi-weekly Nakkheeran, who had been deputed as the emissary of the Tamil Nadu and Karnataka governments to secure the release of Kannada film star Rajkumar and others, left this evening to meet forest brigand Veerappan, the weekly said here.
12 killed in Assam train blast
GUWAHATI, Aug 1 — Minister of State for Railways Digvijay Singh today visited the site of yesterday's explosion which ripped through two coaches of UP Tezpur-Katihar Passenger train between Rangia and Goreswar stations on the North Eastern Railway last evening, official sources said.
Uttaranchal Bill passed in LS
NEW DELHI, Aug 1 — A Bill seeking to create Uttaranchal as a separate state comprising 13 districts of Uttar Pradesh, including Udham Singh Nagar and Hardwar, was carried by vote in the Lok Sabha today.