Sunday, August 6, 2000,
Chandigarh, India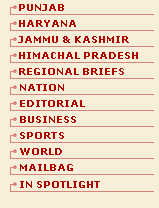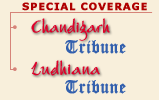 S P O T L I G H T
Bookie held
From Our Correspondent
NEW DELHI, Aug 5 — In a significant development in the sensational match-fixing case, the Delhi police had arrested one more bookie suspected to be a "conspirator" in the scandal involving sacked South African cricket captain, Hansie Cronje, from north Delhi here. Sunil Dara, alias Bittoo, owner of a restaurant in south Delhi, was apprehended from the main Inter-State Bus Terminus in north Delhi by the sleuths of the Delhi police's crime branch last evening, police sources said today. According to senior police officials, the preliminary interrogation of Dara has revealed that he was one of the "conspirators" in the match-fixing scandal and had links with the prime accused in the case and the London-based businessman Sanjeev Chawla and another bookie arrested in the scandal, Rajesh Kalra.
Attack on RR post
JAMMU, Aug 5 (PTI) — Two militants and a soldier were killed and three jawans injured when Lashkar-e-Toiba ultras attacked a Rashtriya Rifles post at Surankote in Poonch district today, defence sources said. Ultras fired indiscriminately at the post killing a troop and wounding three others, they said, adding that security forces returned the fire in which two ultras were killed. One of the slain militants belonged to Turkey, the sources said.