THE TRIBUNE MAGAZINES
On Mondays


On Sundays

On Saturdays

Christians flay attacks on secularism
NEW DELHI, Aug 13 — Several Christian leaders today held a day-long fast and prayer at the Rajghat here for strengthening India's secular and democratic traditions and denounced attempts by the vested political interests aimed at destroying the plural heritage of the country.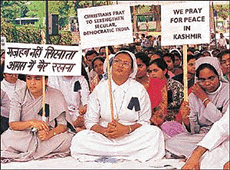 Members of the Christian community from Delhi and neighbouring districts of Uttar Pradesh and Haryana hold banners and pray for peace and democracy in India at Raj Ghat in old Delhi on Sunday. — Reuters



Satta syndicates lure women, kids
HISAR, Aug 13 — Satta kings have spread their tentacles to the countryside in Haryana where they have found a lucrative market in women and children, it is learnt. Satta was hitherto an exclusive male reserve limited to towns. Inquiries, however, reveal that over the past two years, different satta syndicates have extended their operations to villages where they have successfully cultivated an entirely new clientele among women and children.
EARLIER STORIES
(links open in a new window)
Centre sounds red alert
August 13, 2000
ISI agent held, RDX seized
August 12, 2000
Srinagar car blast kills 12
August 11, 2000
Pak sabotaged peace process: Advani
August 10, 2000
HP flood havoc: herculean task ahead; Kinnaur area remains cut off
August 9, 2000
PM: J&K talks can go beyond statute
August 8, 2000
SAD not to pull out of NDA
August 7, 2000
Govt drops federal agency plan
August 6, 2000
Killings not to hinder talks: PM
August 5, 2000
Centre, Hizb agree to set up panels
August 4, 2000
Night of massacres leaves 105 dead in valley
August 3, 2000