Tuesday, August 15, 2000,
Chandigarh, India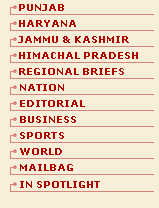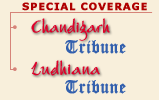 H A R Y A N A

Major recruitment drive by police
CHANDIGARH, Aug 14 — The Haryana police is all set to launch a major recruitment programme from August 19 to induct 2,000 constables against nearly 4,600 vacancies in the state constabulary.

Few takers for tractors in Haryana
FATEHABAD: The tractor industry is slowly losing its market in Haryana, one of the most prosperous agricultural states. The sales of almost leading tractor companies in the state has been dwindling for the past one decade.



Teaching English, Haryana way
CHANDIGARH, Aug 14 — A for apple, B for banana... and so on. That's how most of us have learnt English at school. The Haryana Government, however, has turned the concept upside down as the alphabet will figure only in the last part of its English textbook for children studying in class I.

3 calves born by embryo transfer
CHANDIGARH, Aug 14 — The Haryana Livestock Development Board today claimed to have succeeded in producing three calves by using Embryo Transfer Technology. A sum of Rs 442 lakh had been earmarked for the promotion of the technology in the state.

HVP men threaten indefinite fast
REWARI, Aug 14 — Mr Vijay Saini, general secretary of the youth wing of the Haryana Vikas Party, announced at a press conference here today that he along with three other persons would start an indefinite fast at the Moti Chowk here from tomorrow.

Non-teaching staff to stage dharna
HISAR, Aug 14 — The All-Haryana Universities Non-Teaching Employees Federation has decided to stage a dharna on August 17 at Maharshi Dayanand University, Rohtak, if the government fails to accept its demands by August 16.
President sets up Governors' panel
August 14, 2000
Chautala urges PM to convene
NDC meeting
August 13, 2000
Changes in ST-38 form okayed
August 12, 2000
Haryana set to oppose move on CST
August 11, 2000
Bandh reflects INLD-BJP rift
August 10, 2000
Set up units in Haryana, CM asks IT giants
August 9, 2000
Kataria admits chinks
August 8, 2000
'Refer ST-38 issue to expert panel'
August 7, 2000
NDA govt incapable: Bansi Lal
August 6, 2000
Rs 10 cr grant-in-aid for all districts
August 5, 2000
HVP supports bandh, industrialists oppose
August 4, 2000