Tuesday, August 15, 2000,
Chandigarh, India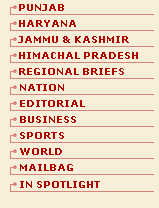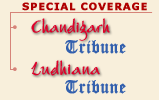 S P O T L I G H T

4 peacocks electrocuted
MORENA (MP) , Aug 14 (PTI) — Four peacocks were electrocuted on Sunday at a village, near here, officials said here today. The peacocks were sitting on a transformer during rains when they were electrocuted, they said. Earlier, over 80 peacocks had died here after consuming chemically-treated bajra.


Victim of ragging succumbs to burns
KANCHEEPURAM, Aug 14 (UNI) — A 17-year-old college student, who set herself ablaze here on Friday, after being ragged in college, died of severe burns at a Chennai hospital yesterday. The police said the student, K Deepa, was admitted to Kilpauk Medical College and Hospital in a critical condition. Deepa and one of her friends, who had joined the undergraduate programme in microbiology in Krishna Arts and Science College at Keelembi, near here, only a week ago, were asked by a few senior students to sing an obscene song without their garments. When they refused, the seniors-warned them of dire consequences. Apparently terrified, the girl returned home, doused herself with kerosene and set herself ablaze. Based on her statement to the Magistrate, the police had arrested three second-year degree students, including a girl. They were remanded in judicial custody.