THE TRIBUNE MAGAZINES
On Mondays


On Sundays

On Saturdays

IN PASSING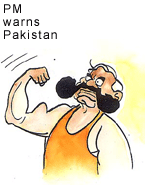 by Sandeep Joshi


TN drops charges against militants
CHENNAI, Aug 15 — Moving quickly to meet a major demand by forest brigand Veerappan for the release of Kannada film icon Rajkumar and three others the Tamil Nadu Government today revoked the detention of four Tamil extremists under the National Security Act even as journalist-emissary R. R. Gopal readied to leave for his second round of negotiations with the outlaw.
Detainees' cases under study: CM
AMRITSAR, Aug 15 — The Chief Minister, Mr Parkash Singh Badal, talking to mediapersons here said the Sikh youths detained under TADA were being released gradually and their number had come down to 53.
The permanent board set up to review cases of such detainees "has" been freeing deserving detainees every three months," he said. The cases of the remaining 53 detainees were being processed.
EARLIER STORIES
(links open in a new window)
Growing intolerance worries Narayanan
August 15, 2000
5 jawans die in Udhampur blasts
August 14, 2000
Centre sounds red alert
August 13, 2000
ISI agent held, RDX seized
August 12, 2000
Srinagar car blast kills 12
August 11, 2000
Pak sabotaged peace process: Advani
August 10, 2000
HP flood havoc: herculean task ahead; Kinnaur area remains cut off
August 9, 2000
PM: J&K talks can go beyond statute
August 8, 2000
SAD not to pull out of NDA
August 7, 2000
Govt drops federal agency plan
August 6, 2000