Wednesday, August 16, 2000,
Chandigarh, India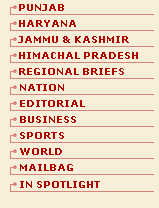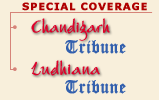 L U D H I A N A


A tableau symbolising Bharatmata being displayed at the Independence Day parade in Ludhiana (Right) Minister for Local Bodies Balramji Dass Tandon and MP Lala Lajpat Rai, senior Akali leader Jagdev Singh Talwandi and Deputy Commissioner S.K. Sandhu watch the cultural programme.
Gaiety, fervour mark Independence Day in city
LUDHIANA, Aug 15 —Traditional gaiety and fervour marked the Independence Day celebrations here today with a number of functions organised to mark the occasion.
'Break politician-criminal nexus'
ISSRU (LUDHIANA), Aug 15 — It was fun and frolic all the way in this non-descript village with politics thrown in good measure as several politicians converged here today to pay homage to Karnail Singh, martyr of Goa, on the Independence Day.
Their grit turned crisis into opportunity
August 15, 2000
Police intensifies patrolling after
blast
August 14, 2000
Sessions Court bomb blast rocks city
August 13, 2000
Villagers have sleepless nights as fear of robbers
grips them
August 12, 2000
Woman stripped, beaten up
August 11, 2000
'Kidnapped' woman admits running
away with lover
August 10, 2000
Forced selling of cops' books kicks
up row
August 9, 2000
Long wait for son amidst mourning for grandson
August 8, 2000
Malaria, viral fever cases on rise
August 7, 2000
Ex-MLA accuses cops of shielding guilty
August 6, 2000
Gloom, anger mark the bandh in city
August 5, 2000
City observes 'black day'
August 4, 2000