Friday, August 18, 2000,
Chandigarh, India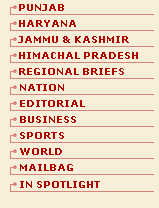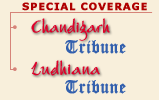 S P O T L I G H T
1 killed, 3 hurt in refinery blast
VISAKHAPATNAM, Aug 17 (PTI) — One person was killed and three were seriously injured in a blast in the Hindustan Petroleum Corporation (HPCL) refinery at Malkapuram, near here, today. The blast occurred when neptha was being loaded into a tank, official source said.
Curfew relaxed
MATHURA, Aug 17 (UNI) — The five-hour relaxation allowed in curfew-bound areas of Mathura passed off peacefully today. Meanwhile, the police continued to conduct house-to-house searches and arrested at least 50 persons and recovered another body from the curfew-affected areas.
BSF jawan goes berserk, kills 2
JAIPUR, Aug 17 (PTI) — A jawan of the Border Security Force (BSF) went berserk and shot two brothers in Rawalamandi village in Bikaner district, official sources said here on Thursday. Jameel Iqbal, belonging to Kupwara in Jammu and Kashmir was later taken into custody by the state police in the early hours on Wednesday, official sources said. The incident occurred late Tuesday night when the jawan, on patrol, first shot down a villager, and later his brother with his SLR rifle.