THE TRIBUNE MAGAZINES
On Mondays


On Sundays

On Saturdays

IN PASSING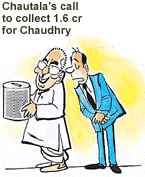 Chautala ji, should we call it a relieved PM's fund?
by Sandeep Joshi
STD links still erratic
French experts fail to detect snag
Chandigarh, Aug 18 — Frantic e-mails by the local Telecom Department to Alcatel Telecom Headquarters in France — suppliers of the digital trunk exchange (D-TAX) which has developed a major snag in Chandigarh — to seek help have not yielded much of a result. It is just like failed attempts by local residents to dial outstation numbers in the past one week.
DoT may fine Alcatel
CHANDIGARH: The local telecom department may be imposing some kind of a fine on Alcatel, the equipment supplier, for the losses it has incurred.
Punjab not to hike college fee
600 ad hoc lecturers to be recruited
PATIALA, Aug 18 — In a major policy decision, the Punjab Government has dropped the proposal to hike fees in colleges and universities besides deciding to recruit 600 ad hoc lecturers to fill all vacant posts in rural colleges of the state. Sources said the state Cabinet did not approve the fee hike proposal, feeling it would have an adverse political fallout.
Another finance panel for Punjab
CHANDIGARH, Aug 18 — Punjab has set up the Second Finance Commission. It has fulfilled a constitutional obligation. This commission should have been set up in 1999. But despite reminders by the minister concerned, Mr Balramji Das Tandon, the government dithered and delayed transgressing the period by one year.
Alarming rise in fatalities
CHANDIGARH, Aug 18 — As many as 17 people die in road accidents in Punjab, Haryana and Chandigarh every day. These deaths on roads are far more than total unnatural deaths covered under the Indian Penal Code in the region.
EARLIER STORIES
(links open in a new window)
3 Pak troops shot dead
August 18, 2000
18 hurt in Kashmir grenade blast
August 17, 2000

Stop proxy war, PM warns Pak
August 16, 2000

Growing intolerance worries Narayanan
August 15, 2000

5 jawans die in Udhampur blasts
August 14, 2000

Centre sounds red alert
August 13, 2000

ISI agent held, RDX seized
August 12, 2000

Srinagar car blast kills 12
August 11, 2000

Pak sabotaged peace process: Advani
August 10, 2000
HP flood havoc: herculean task ahead; Kinnaur area remains cut off
August 9, 2000
PM: J&K talks can go beyond statute
August 8, 2000