THE TRIBUNE MAGAZINES
On Mondays


On Sundays

On Saturdays

IN PASSING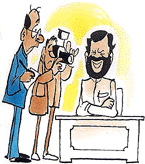 We want to put India on the IT super highway;
e-mail, chat, video conferencing etc, but
right now we are
correcting our STD links.

by Sandeep Joshi
Army porter killed in shelling
SRINAGAR, Aug 19 — An Army porter was killed and eight civilians were wounded as Pakistani troops continued unprovoked and indiscriminate shelling along the Line of Control in north Kashmir for the third day today.
Fire destroys shopping complex
BAROT, (Mandi) Aug 19 — Almost the entire shopping complex, including the Himachal Gramin Bank, the Himachal Cooperative Bank, office of the SDO, HPSEB, and the post-office here were reduced to ashes in a devastating fire which broke out last night at a tourist resort, 65 km from Mandi in Jogindernagar subdivision.
Cong submits "charge sheet"
SHIMLA, Aug 19 — Listing serious allegations of corruption, nepotism and breakdown of law and order against the BJP-HVC combine government in Himachal Pradesh, the Congress today submitted a "charge sheet" to the Governor, Mr Vishnu Kant Shastri, demanding dismissal of the state government and a CBI inquiry into the omissions and commissions of the government.
More vehicles than licences
CHANDIGARH, Aug 19 — Five vehicles to a driving licence holder. It is true in Haryana. For nearly 1.1 million registered vehicles until March 31, 1997, just 2.32 lakh driving licences were issued in the state.
EARLIER STORIES
(links open in a new window)
Militants massacre six villagers
August 19, 2000
3 Pak troops shot dead
August 18, 2000
18 hurt in Kashmir grenade blast
August 17, 2000

Stop proxy war, PM warns Pak
August 16, 2000

Growing intolerance worries Narayanan
August 15, 2000

5 jawans die in Udhampur blasts
August 14, 2000

Centre sounds red alert
August 13, 2000

ISI agent held, RDX seized
August 12, 2000

Srinagar car blast kills 12
August 11, 2000

Pak sabotaged peace process: Advani
August 10, 2000
HP flood havoc: herculean task ahead; Kinnaur area remains cut off
August 9, 2000