Tuesday, August 22, 2000,
Chandigarh, India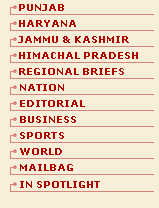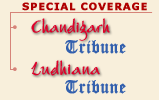 S P O T L I G H T

Village pradhan, father shot
JAUNPUR, Aug 21 (UNI) — A newly-elected gram panchayat pradhan and his father were shot dead by unidentified assailants at Kachband village here on Monday. Police Superintendent Ram Singh said the assailants struck pradhan Subhash Chandra (35) and his father Bechan Ram (52) on the outskirts of the village. A curfew has been imposed on the village as tension prevailed in the area after the incident.
Six killed in Tripura violence
AGARTALA, Aug 21 (UNI) — At least six persons were killed in ethnic violence and militancy during the past 48 hours in Tripura. The police said here on Monday that following a militant attack, a violent mob hacked to death four tribal men, including two government employees, and set ablaze more than 125 houses at Joyshree in North Tripura on Saturday night. In a separate incident, militants killed two teenaged boys at Dewanbari in North Tripura.
3 killed by ultras in Palamu
DALTONGANJ, Aug 21 (PTI) — Rebels of the Maoist Communist Centre (MCC) and Sangharsh Jan Mukti Morcha have killed three persons in Palamu district, a senior police official said on Monday. Suspected MCC activists slit the throat of a person, whose body was recovered on Sunday night, Police Superintendent Vinay Kumar Pandey said. In another incident, the Morcha ultras gunned down its self-styled area commander Kauleshwar Bhuian.