Wednesday, August 23, 2000,
Chandigarh, India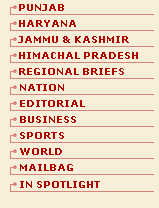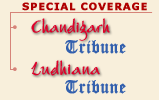 S P O T L I G H T
Mahatma Gandhi's daughter-in-law dead
BANGALORE, Aug 22 (UNI) — Mrs Nirmala Gandhi, daughter-in-law of Mahatma Gandhi, died at Seva Grama in Gujarat on Monday. She was 92. She is survived by two daughters, including former Rajya Sabha member and Constitutional Review Committee member Sumithra Kulkarni, and a son. She was a trustee of the Seva Grama Parsishthan, family sources said. She had participated in satyagrahas along with her husband Ramadas Gandhi and had been jailed on many occasions.
250 bombs seized by Kanpur police
LUCKNOW, Aug 22 (PTI) — The Kanpur police has recovered 250 bombs, including 55 country-made ones, and arrested 63 persons in this connection during a special drive to seize explosives in the industrial city, which was rocked by a spate of bomb blasts during the past few days, a Home Department spokesperson said.
Volcano erupts in Japan
TOKYO, Aug 22 (DPA) — Mount Oyama on the Island of Miyakejima, about 200 km south of Tokyo, erupted on a small scale this morning, sending smoke as high as 1,800 metres into the air, Japan's meteorological agency said.