Thursday, August 24, 2000,
Chandigarh, India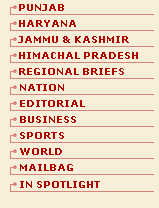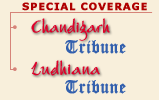 H A R Y A N A


Libraries for martyrs' native places
Rs 1.5 crore grant released
CHANDIGARH, Aug 23 — A former Deputy Prime Minister and Rajya Sabha member, Mr Devi Lal, has released a grant of Rs 1.50 crore out of the MP Local Area Development Fund for setting up libraries at the native places of 75 martyrs of Haryana who sacrificed their lives during the Kargil war.

I will be CM soon, says Bhajan
HISAR, Aug 23 — Former Chief Minister, Mr Bhajan Lal said here today that he had no plans to retire from politics in the near future.Addressing a large gathering on the occasion of the birth anniversary of Guru Jambheshwar, founder of the Bishnoi sect, he said he was looking forward to becoming the Chief Minister again.

Need for setting up govt college
KAITHAL: Successive state governments have failed to keep their promise of setting up a government degree college here. The demand had been taken up at the level of Chief Minister over the years by the people's representatives but to no avail.

Question mark on cops' recruitment
ROHTAK, Aug 23 — Simultaneous withdrawal of "huge" sums of money from banks in rural areas in the past 15 days has put a question mark on the recruitment of cops in the state. Alleging that something was amiss, the District Congress Committee (Rural) demanded a high-level inquiry into where the money was being deployed.

BCA students given wrong degrees?
FARIDABAD, Aug 23 — About a 100 students of a college here were allegedly awarded wrong degrees by the authorities of Maharshi Dayanand University at a convocation held here yesterday.

Scintillating show by army bands
AMBALA, Aug 23 — A scintillating performance was given by the mass Army Band on the concluding day of the 2 Corps Army Band Competition which was held at Kharga Stadium, yesterday.

'Train time' leads to chaos on highway
KALKA, Aug 23 — It is time for the Himalayan Queen to pass the level crossing between Kalka and Pinjore on the National Highway no.22. The crossing is closed to vehicular traffic by gate man for 8-10 minutes to allow the train to pass.
Dalal dares Chautala
August 23, 2000
More powers for Revenue Dept
August 22, 2000
Potable water scheme okayed
August 21, 2000
Pressure on govt to remove DGP
August 20, 2000
Drive against power thefts successful
August 19, 2000
Farmers suffer as truckers, rice millers fight
August 18, 2000
Suspense over CM's visit
August 17, 2000
Rs 750-crore grant for NH four-laning
August 16, 2000
Major recruitment drive by police
August 15, 2000
President sets up Governors' panel
August 14, 2000
Chautala urges PM to convene
NDC meeting
August 13, 2000
Changes in ST-38 form okayed
August 12, 2000