IN PASSING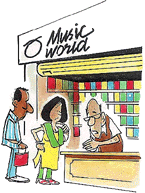 What? You want suspense, action, melodrama, tragedy... sorry, we don't have Veerappan cassettes!
by Sandeep Joshi
AP fit case for more aid: Nitish
HYDERABAD, Aug 26 — Describing the devastation caused by rain as "severe", Union Agriculture Minister Nitish Kumar today said "Andhra Pradesh was a fit case for additional Central aid".
Classroom teaching on the slide
CHANDIGARH, Aug 26 — One of the major reasons for "deterioration in classroom teaching" is the failure of both state governments and the universities in enforcing guidelines of the University Grants Commission.
Fire and cover along LoC
ALONG THE LINE OF CONTROL, Aug 26 — The muzzle flashes and tracers whizzing overhead light up the night as Pakistani machineguns fire from across the Line of Control (LoC). "Keep your heads down. Stay in cover,'' comes the calm advice of a young Major commanding the outpost, as Indian gunners open up in retaliation.
EARLIER STORIES
(links open in a new window)
India treads neutral path
August 26, 2000
10 Pakistani troops killed
August 25, 2000
Pak national, 5 others arrested
August 24, 2000
Oil depot damaged in Pak shelling
August 23, 2000
Don't use Army for internal security,
says General Malik
August 22, 2000
Militants kill 4 in Udhampur
August 21, 2000
Oil price hike may lead to clash
August 20, 2000
Militants massacre six villagers
August 19, 2000
3 Pak troops shot dead
August 18, 2000
18 hurt in Kashmir grenade blast
August 17, 2000