Thursday, September 7, 2000,
Chandigarh, India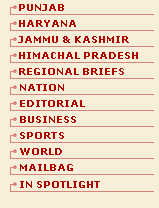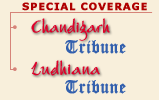 N A T I O N
SC limits courts' jurisdiction
NEW DELHI, Sept 6 — In an important ruling, the Supreme Court has held that territorial jurisdiction of a court with regard to a criminal offence would be decided on the basis of the place of occurrence of the incident and not on the basis of where the complaint was filed.
HC pulls up MCD chief
NEW DELHI, Sept 6 — municipal Corporation of Delhi (MCD) Commissioner S.P. Agarwal appeared utterly helpless today when the High Court asked him to explain what action has been taken against officials responsible for the Malkaganj house collapse incident of 1998.
Judges' LTC scheme: clarification sought
NEW DELHI, Sept 6 — the Delhi High Court today sought clarification from the Centre under what provision it had issued a circular restricting high court judges' entitlement of leave travelling concession (ITC) claim only to travel by the Indian Airlines (IA).
Bangaru meets Thakre on office-bearers
NEW DELHI, Sept 6—The new list of office-bearers of the BJP is in the final stage of finalisation with a meeting between the party President, Mr Bangaru Laxman and the Prime Minister, Mr Atal Behari Vajpayee scheduled to take place this evening before the latter's departure to the USA.
Jaya asks for copy of letter rogatory
CHENNAI, Sept 6 — Former Tamil Nadu Chief Minister and AIADMK general secretary J Jayalalitha today filed an application before a special judge, seeking a copy of the letter rogatory and the orders passed thereon in the Rs 66.65 crore disproportionate wealth case against her and three others.
TN to defend ultras' release
September 6, 2000
Jaya served with charge sheet
September 5, 2000
HP to start tele-medicine
September 4, 2000
SP for justice to cane-growers
September 3, 2000
BJP executive before Atal's US visit
September 2, 2000
Good governance my goal: Laxman
September 1, 2000
Karnataka to contest stay on Sept 1
August 31, 2000
Vajpayee emerges supreme
August 30, 2000
ICMR awards for 2 PGI docs
August 29, 2000
PM's visit not tied to CTBT
August 28, 2000
Govt has no policy on J&K: Sonia
August 27, 2000