Thursday, September 7, 2000,
Chandigarh, India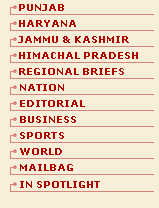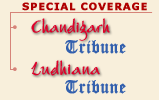 S P O T L I G H T
UP cops arrest 5 ISI spies
LUCKNOW, Sept 6 (UNI) — In a major crackdown against the activities of Pakistan's Inter-Services Intelligence (ISI) in Uttar Pradesh, the Special Task Force (STF) of the police today arrested five alleged ISI activists in the state capital. They included two former army personnel and two Nepali nationals.
Prasar Bharati staff
NEW DELHI: Sept 6 (PTI) — Prasar Bharati employees today held a demonstration here in protest against "disparity" in pay scales among various disciplines and "anti-employees" recommendations of the Shunu Sen Committee. The United Forum of Prasar Bharati Employees, which comprises 10 employees associations, also expressed solidarity with employees of the telecom sector.
RBI man convicted
NEW DELHI, Sept 6 (PTI) — A designated court in Mumbai has convicted an official of the Reserve Bank of India (RBI) to one-and-a-half-years' of rigorous imprisonment for forging documents and withdrawing money illegally.