Friday, September 8, 2000,
Chandigarh, India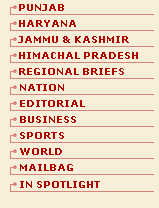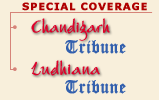 MLA 'disillusioned' with Punjab Assembly
CHANDIGARH, Sept 7 — It seems BJP legislator Laxmi Kanta Chawla is totally disillusioned with the functioning of the Punjab Assembly. She is also not very happy either with her own party.
Anandpur Sahib Resolution discussed
CHANDIGARH, Sept 7 — A resolution pertaining to the Anandpur Sahib Resolution, which was moved by Mr Ajit Inder Singh Mofar of the Shiromani Akali Dal (Amritsar) and supported by at least six rebel SAD legislators was talked out in the Punjab Vidhan Sabha today.
Panel to probe drainage scam
CHANDIGARH, Sept 7 — Responding to a demand made by Mr Hardev Arshi, Mr Ajit Inder Singh Mofar and certain other legislators, the Speaker, Mr Charanjit Singh Atwal, announced in the Punjab Vidhan Sabha today that a committee of the House would be set up to inquire into the drainage scam, an issue raised by a number of members.
Probe into tubewell scam indicts CAO
GURDASPUR, Sept 7 — A magisterial enquiry into the deep tubewell scam involving embezzlement of lakhs of rupees and other irregularities has indicted the then Chief Agriculture Officer, the Assistant Development Officer, Dina Nagar, and UNITEK and Competent Engineers, both Pathankot based firms.
Parmeswari Devi files papers
SUNAM, Sept 7 — The presence of Capt Amarinder Singh, President, PPCC, and Mrs Rajinder Kaur Bhattal, at the time of filing nomination papers for the Sunam Assembly byelection by Mrs Parmeswari Devi, widow of Bhagwan Dass Arora, here today, the Congress leadership in Punjab tried to show that there was no factionalism in the state party unit.